Well it's been a little over a month since I first posted anything on this project. First let me give some kudos to those artists who helped me along the way to completing this saddle. Dusty Smith of WYO Saddle trees did a fine job in creating the 3B tree. Richard Brooks of Cayley, Alberta, did the silver work and Trina Weber made the 5″ Moran stirrups. It really makes my job easier when I have such great people contributing those items which I cannot produce myself.
This saddle features a 3B tree with 9″ wide swells, a 15″ seat, and 5″ x 11″ cantle set at 45 degrees. The in-skirt rigging is set at 13/16 position and the swell shield, cantle binding and inlaid seat all have a matching chocolate sharkskin leather. Fenders, seat jockeys, and rear jockeys are all lined and sewn to add durability and a classy look to this rig. Richard Brooks does fantastic silver work and has always been a very easy artist to work with and I appreciate his ability to deliver good work in a very timely fashion.
Richard created the six string conchos and the silver horn cap for this saddle. The year 2017 marks 500 years since a persistent monk and towering thinker, Martin Luther, published his 95 theses or complaints against the Catholic Church and launched the Protestant Reformation. The horn cap is a representation of Martin Luther's Seal or Rose.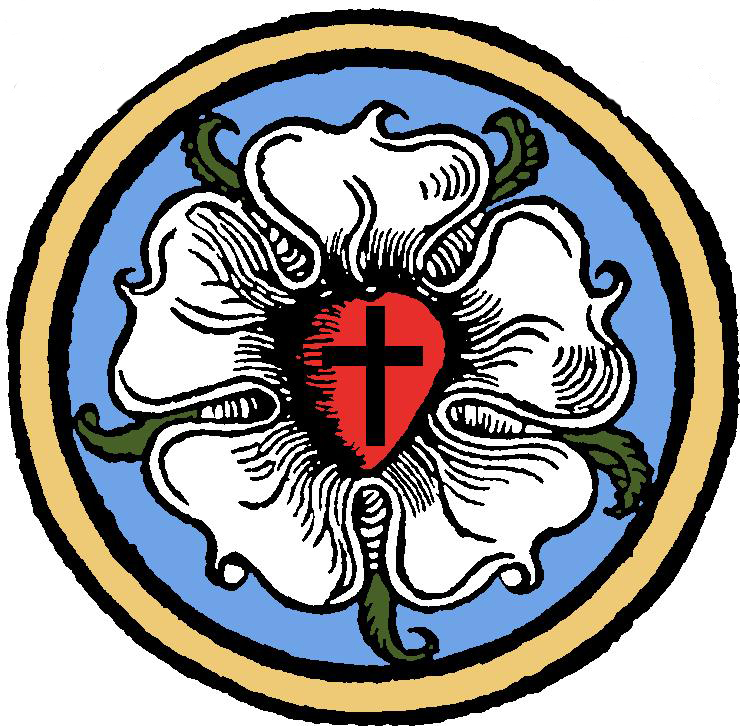 It was the seal that was designed for Martin Luther at the behest of Prince John Frederick, in 1530, while Luther was staying at the Coburg Fortress during the Diet of Augsburg. Lazarus Spengler, to whom Luther wrote his interpretation below, sent Luther a drawing of this seal. Luther saw it as a compendium or expression of his theology and faith, which he used to authorize his correspondence. Luther informed Philipp Melanchthon on September 15, 1530 that the Prince had personally visited him in the Coburg fortress and presented him with a signet ring, presumably displaying the seal. In Luther's own words, "The first should be a black cross in a heart, which retains its natural color, so that I myself would be reminded that faith in the Crucified saves us. For one who believes from the heart will be justified" (Rom. 10:10). Although it is indeed a black cross, which mortifies and which should also cause pain, it leaves the heart in its natural color. It does not corrupt nature, that is, it does not kill but keeps alive. "The just shall live by faith" (Rom. 1:17) but by faith in the crucified. Such a heart should stand in the middle of a white rose, to show that faith gives joy, comfort, and peace. In other words, it places the believer into a white, joyous rose, for this faith does not give peace and joy like the world gives (John 14:27). That is why the rose should be white and not red, for white is the color of the spirits and the angels (cf. Matthew 28:3; John 20:12). Such a rose should stand in a sky-blue field, symbolizing that such joy in spirit and faith is a beginning of the heavenly future joy, which begins already, but is grasped in hope, not yet revealed. And around this field is a golden ring, symbolizing that such blessedness in Heaven lasts forever and has no end"
Below are the final photos.